Seems you can't move for card alterations right now, part of the type 1/EDH pimping craze. I admit to having fallen for this too. With the help of my colleague, the ever-so-talented Antoine, I'm looking to build on my alters.
Elvis started out as James Hetfield but quickly became The King. Base work by myself, detail by Antoine.
The following two are all Antoine's work, first a Shield of the Oversoul that really needed something to hide the original image.
This one is subtle but just fits the card really well. Again all credit to Antoine.
I thought I'd take the opportunity to shoot up a couple of links to some resources, tutorials and just excellent art alterations and extendeds for those of you who are interested too.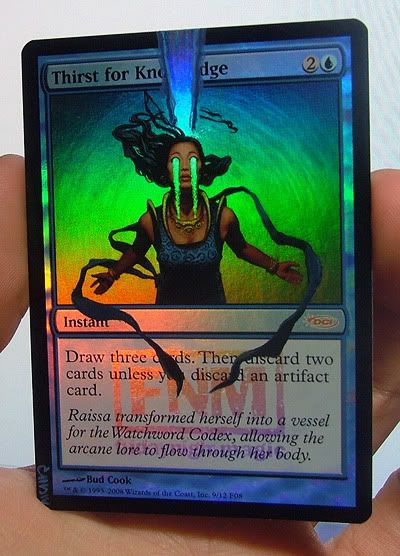 This is where I first came across card alters, Yawg07 is the most prolific on here and his recent foil alters are really stunning.
This is his TFK.
Another, more populated, forum is over at MTGSalvation
and you can link through there to the
tutorials subforums
. This Jace was altered by SandraMeals-2009.
Speaking of tutorials, Dale Lovelace, the originator of the Group Hug deck, shows us
how to get messy with paint by altering a playset of Putrid Leeches
. And here they are!
There's also a tutorial on
Card Kitty
. They have a step by step look at
altering their Trinket Mages
. Their Kresh is just one of their excellent pieces. Go have a look!
You may not speek Italian though you can still appreciate the
excellent work from numerous artists assembled here.
This one is from Adriano and
you can find his other alters right here on Blogspot.
One of those artists is Magic artist Therese Nielsen and you can see
her alters and her take on the trend on her website
. Through that you can also link to the
excellent picture tutorial of her Yag. Will alter with Ron Spencer
. This one is really worth a look. This is here latest Eternal Witness.