(
or "Old Mirrodin" if you're Thrun or Melira, pretty much the only ones not Borg-ed)
The Leak:
I'm not sure what's more annoying about the leak (or should I say "leaks"), that it utterly spoiled (heh!) one of the most hotly awaited spoiler seasons since Tarmogoyf spoiled "Planeswalker", or that there's an overwhelming sense of entitlement from the forum-rats that this was not only "deserved" for them but a measure of come-uppance for WotC. I've read a lot of the back and forth on this topic on various notice boards and it's quite stunning the utter disregard that the community has for WotC's right to disseminate their own intellectual property when and how they wish to do so.
Whatever side of the fence you sit on for this debate, you can't argue that anticipation and build-up to the release of this set is in any way better than it would have been had WotC been permitted to follow their usual schedule. As I write this, it's still 10 days until the release events and already the set reviews are a week done and dusted. There's nothing to do but wait for release day.
Quite apart from the financial concerns involved in a complete set leak a full 3 weaks before it was due to be officially released, all the buzz over 10 cards has killed the buzz for the remaining cards in the set. No-one is rushing to find out what else NPH has in store; there's only planning purchases now, no excitement.
Worst. Spoiler. Season. Ever.
EDIT: The announcement was made last night regarding the source of the leak. As more and more elements come to light it seems that the moral of this particular story is twofold: Don't mess about when you've signed an NDA and, if you're going to be foolish enough to break your NDA, choose your collaborators very wisely. It seems Guillaume Matignon didn't and is paying the price. From what can be garnered from the information coming out, it seems that WotC has decided to be extremely lenient regarding sanctions with a 3 year ban for the current World Champion and 18 months each for the subsequent links in the leak chain. Not the finest hour for France's cadre of Pros and sad that two great players will be off the scene for a significant period of time. As an additional sanction, Guillaume Wafo-Tapa, considered by many as a shoe-in for the next Hall of Fame, will not now be on the ballot for this years vote.
Maybe players with access to unreleased information will think twice about revealing it now.
Back to the serious stuff.....
The Pitch:
You have to admire the Phyrexians. They were wiped out to the last drop of oil (bar one) on one plane only to come back, seemingly stronger than ever, on a completely new plane (albeit one that is pretty much tailor made for them.) Not only that, but they did it with a panache and ease worthy of glorification in an internet meme:
Step 1: Just when everyone thinks you're done for, slip unnoticed
inside
the very weapon that has been assembled specifically to defeat you.
Step 2: When that weapon builds its own plane (delusions of grandeur much?), slide back out and contaminate it.
Step 3: ???
Step 4: Profit!! (And pay your dues to the association for the free distribution of gory, blood-spattered art. That shit is
nasty
!)
I bet that's an R&D development meeting that took a while to get through.... (not)
Maro:
Ok guys, What are we doing after the Eldrazi? It's gotta be big!!
Guys:
Phyrexia?
Maro:
Nah, they got dusted in Invasion block.
Guys:
So? The players swallowed Coldsnap whole, I'm sure we could dream up some semi-coherent clangers and it'll be fine.
Maro:
What if Karn was
infected by Phyrexian oil !!!!!1111!!one!!!
.........and the rest is history.
The Very Indepth Review:
Now, I've done a couple of these set review things now and had originally planned to continue the tradition (you know the one where I totally miss out on one of the huge cards but somehow find space for a couple of duds that end up never getting played?)
Thaumaturge, along with a few others, has already set bytes to blog-page and come up with some good stuff (though I obv. disagree with your Torpor Orb assessment, Thaum). What use is another blogosphere hack adding to the cacophony when a suitable symphony already exists?
You can find his review here at
The Commande Zone
.
The "Hur-Hur" Corner:
WotC did an excellent reveal of Elesh Norn, Grand Cenobite in Phyrexian script early on in the publicity campaign and she's become the poster-girl for all that's mythic, big, nasty and artistic in the set. Somehow the gore-fest that represents the majority of her body is offset by the stunning porcelain-like metal headgear she's sporting. Apart from the
obvious wardrobe malfunction it represents in reality
, it's a pretty majestic piece of art.
Which is why our French friends' utter lack of respect for this grand figure is somewhat amusing. One of our gallic colleagues noticed within about 1 hour of the first full-card image being posted that, with the help of some censorship boxes,
Elesh Norn, Grand Cenobite
, probably needed a different title.
For any of you who don't speak French, here's an introduction to the joke: >sniggers!<
"
Elesh Norn, Grand Cenobite
" with part of the title blacked out becomes "
Elesh [censored] nobite
" (just as shown in the picture), which, in French phonetics, conveniently becomes "
Elle leche nos bites
"*. Running this through Google may give you a different answer than the one intended, but either way, don't try this on your French teacher.**
The Actual Cards:
I'm not giving you a set review, you've had them already. What I intend to do, very briefly, is indicate which of those cards that I will and won't slot directly into my decks and why. This has no bearing on their playability elsewhere and ignores other OMGWTF cards that someone else may be fapping over. First up are the exciting 'In" crowd.
I start with some sad news however. Thada Adel is no more. In preparation for the prominance of Phyrexia on his plane, the insane meglomaniac Memnarch has displaced the diminutive merfolk and has started terrorising kitchen tables everywhere. He's been sending me post-its too:
Hey, Lame Ass! Get me:

Phyrexian Metamorph
Unwinding Clock
Phyrexia's Core

STAT!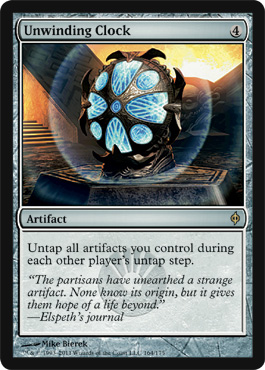 I told him the set only comes out in about 3 weeks but you know how meglomaniacs get, eh? You can't argue with him about the card choices though, these three are gold in Memnarch's machine. Despite the additional 1 mana investment over the creature original, "High Market: Artifacts" is always going to be useful. What's a little surprising is that a Phyrexia's Core equivalent hasn't been made before. It's also interesting that a second ex-standard combo becomes possible in standard with the Core. After Splinter Twin/Pestermite, we now have Spine + Sac outlet + Sculpting Steel available. Which brings me nicely to my next choice.
We've seen the virtues of Phyrexian Metamorph prated elsewhere: Half-Clone/Half-Sculpting Steel, it's the ultimate cheap hooker card that everyone loves (because it can be anything you want it to be!) As a bonus it remains an artifact so when you have everything covered with a Darksteel Forge, your clone of a Primeval Titan is indestructible. Usual Master Transmuter shennanigans apply. This is artifact awesome-sauce and as an added bonus for us foil-magpies out there, it's a release promo with, once again, sick-ass art.
The third welcome addition, Unwinding Clock, made me re-check the casting cost a couple of times. Surely a hardier "Seedborn Muse: Artifacts" should cost more than its creature equivalent? Apparently not. R&D do realise that Seedborn Muse is one of the most annoying and abusable green creatures in Multiplayer, right? Why in their right minds would they give a sick mind like mine the same effect for artifacts at a cheaper price? I thought they had lost it with Mirrorworks (they had) but it seems there's no end to the insanity. If Memnarch had a fantasy Magic set, Unwinding Clock would be in there. Now it is.
Golf clap for R&D.
We've not been gifted with the most original three cards here but they are all really excellent and I expect them to crop up everywhere there are lots of artifacts and, in the case of the Metamorph, just everywhere.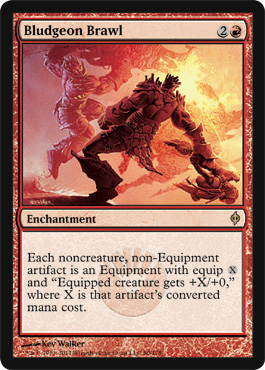 For my Ashling deck well, she's red and red got the shaft, what's new? For EDH, I count 1 interesting red card (maybe 2 if you play Bosh) and that is Bludgeon Brawl (and Moltensteel Dragon). Bludgeon Brawl is worth the look, if only for the hilarious potential you have of turning a non-artifact you control (like Nicol Bolas, Planeswalker) into an artifact with Liquidmetal Coating and "equipping" it through Bludgeon Brawl to a creature you control (Like Nicol Bolas - Elder Dragon Legend) and getting into the red zone for 14 flying with a dragon wielding a more powerful verson of himself as a weapon. Add Mycosynth Lattice & Vulshok Battlemaster for additional hilarity.
There is only Puresteel Paladin in the knights section and, in Zombies, the single 4/1, infect & regeration for 4BB is leaving me pretty cold so we can move on to Green/Black Good-Stuff. Hold on to your hats!
I'm somewhat interested in Life's Finale. The ability to Day of Judgement the board (it's missing the 'no regeneration" clause unfortunatly) is nothing new but you also to Buried Alive an opponent for 2 additional mana. 4BB is not too high especially if you plan to bury a player's Geth and animate it somehow. This will allow you to animate the other two targets you found with Life's Finale. Conversely you can drop or reanimate your own Geth and profit in a similiar vein. Of course if your opponent(s) have means of utilising this resource it could be a double edged sword but that's a risk you'll have to evaluate in-game. You could also find an Eldrazi as one of the three targets and have a player shuffle their graveyard back into their deck if they have an over-reliance on their graveyard as a resource. While this isn't a Tormod's Crypt, it's at least of occasional strategic value. At the end of the day, it's another Damnation for Mono B decks which is nothing to be sniffed at.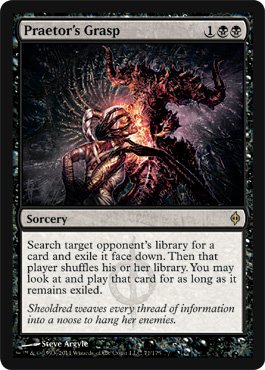 Everyone's talking about Phyrexian Obliterator and with reason, it's a very interesting card. It can function as a very scary wall or an equally impressive beater with optional Annihilator X. Who wouldn't be eager to attack into a fully loaded Lord of Extinction with a lure effect on this? I'm still not sure it will be a hit but it's potentially very playable. Sheoldred is another card advantage monster (with more scary art) that will find a place, though, at 5BB, I'm not sure she'll be your general very often. What's interesting with Sheoldred is that, once again, it's a card that's a combination of two existing cards (The Abyss & Debtor's Knell). The more these crop up, the more we should start asking when R&D will finally run out of ideas.
Praetor's Grasp is the stone cold nuts. If you play black, you will need this card though there is a potential downside: It will slow down your games unless you know exactly what you're going to get. Of the black cards listed here I'll try them all in my BG good stuff but this one I'm already sure will make the final cut when changes need to be made and I'm fairly sure you can't have too many Wrath effects either. It's going to be a tight squeeze!
Moving onto the Green cards I'm adding to the deck when I get them, there's only 2 and one of the ommissions may surprise you (and one of the two inclusions) I'm not sold on Birthing Pod due to the sorcery speed restriction despite the obvious potential it has. Maybe it's partly because I'm already tired of seeing everyone fap over it since the spoil but it hasn't resonated with me just yet. When you already run Fauna/Survival/W.Tutor/Command/Pact/Zenith/Wave/T&N along with black hand and graveyard tutors, just another tutor is not doing it for me right now. Maybe it will grow on me but I'd honestly prefer better green creatures than another way to find creatures.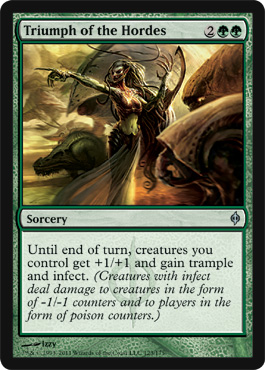 Beast Within is one of my two includes. The 3/3 beast being almost an irrelevance in EDH, there's nothing not to like about this card: the speed, the cost, the flexibility; it's just all round excellent.
My personal sleeper for the set is Triumph of the Hordes. A mini-Overrun granting Infect & Trample to your entire team is an effect that, given enough creatures, can one-shot entire tables. Add some measure of card recursion (EWit/Regrowth) and you don't need another infect card in your entire deck. For once though, the art has let us down: an infected Glissa version of Jack Skellington is just terribly wasted on an otherwise decent background, the trampling hoards of beasts, Porcelain Legionaires and ..... em..... giant snails. This one is going under the brush as soon as I get a copy.
Fin:
Overall it has been an interesting ride for New Phyrexia. Let's hope that the gameplay lives up to the hype, but, most of all, we unearth a plethora of sleepers forgotten in the clamour to expound on the glories of free counters, peeks and slippery BSA equipment.
I want to finish by remarking on a disturbing trend in the most recent blocks: the traditional story-line bad guy has been winning a little too often lately. Ok, Lorwyn wasn't exactly a victory for the bad guy but the artistic structure of the block suggested heavily that the darkside took precedence over the "lightside"; Alara resulted in Bolas openly pulling strings to forward his fiendish plans and he's still out there somewhere; Zendikar didn't end well for pretty much anything that cost less than 10 though the tentacled ones are stuck there for now; and Scars of Mirrodin has re-unleashed the scourge of Phyrexia. If Innistrad doesn't end up with either another bad guy coming out or at the very least a title fight between all the current players, I'll be mightly disappointed!
It'd be terrible to buck the trend now and have the little guy win it for once.
___________________________________________
* Basically: "She licks our dicks"
** Unless she's, you know, likely to respond a lot more "positively" than simply sending you to the principal.***
*** There's a part of the teenage boy psyche that firmly believes that, one day,
this could actually happen
and we leave our teenage years behind with the crushing disappointment that it never actually did.****
**** And proceed to make millions in the Porn industry.