After having Thada's butt swiftly kicked by Elves (along with that of Wrexial and Treva too) in a game that totalled a mere 40 minutes, I verbaled into Balthor's Zombie Legions (c) for what would hopefully be an equally swift second game as we had only 25 minutes on the clock.
My opener had 2 Swamps, Twisted Abomination, Reanimate, Grave Defiler, Lord of the Undead and Rotting Rats. I can cast everything in my hand but the Defiler off that hand and still have a potential 6/4 regenerator in play. I decided to keep.
Turn 1: Playing first, I drew Swamp, played Swamp and passed.
Turn 2: I drew Carrion Feeder, played Swamp and passed with the intention of going EOT: Swampcycling, untap Reanimate. Instead I Swampcycled and drew a Grave Titan in my draw step......... Hum.
Turn 3: Swamp, play Rotting Rats discarding Grave Titan. Play Reanimate targetting the Grave Titan and end the turn with the start of a small army.
Turn 4: Swamp, play Lord of the Undead, revenge attack Rys with the Titan, the 2/2 Rat and two 3/3 Zombies. He takes 14 on the chin. During his turn he Oblivion Rings the Grave Titan.
Turn 5: Swamp, Grave Defiler finding nothing. Meh. Send the team (without Lord) back into Rhys. He chumps two of the tokens and takes another 8, slipping to only 4 due to damage from the other 2 players.
Turn 6: Bury Alive for Noxious Ghoul, Death Baron and Vengeful Dead. I neglect to play the Carrion Feeder and it costs me a Grave Titan. When I kill Rhys his Oblivion Ring leaves play. In our playgroup we get back what's under Rings etc., a decision that Treva & Wrexial are now regretting. I get two more tokens but Treva sends it on a Path to Exile before I can profit any more.
Turn 7: Death Baron and attack to kill Wrexial. The Wrexial player has put a Quietus Spike on a Rotting Rats and attacked Treva the previous turn. This, along with my leftover attacks, leaves Treva very suceptible to having his brains eaten the following turn. His draw doesn't yield solutions and he splatters his brains over the canteen roof rather than join the shuffling legion.
Total game time: 15 Mins. Moral of the Story: Don't f%#k with dead people. Or Grave Titan on turn 3 is good.
Either one.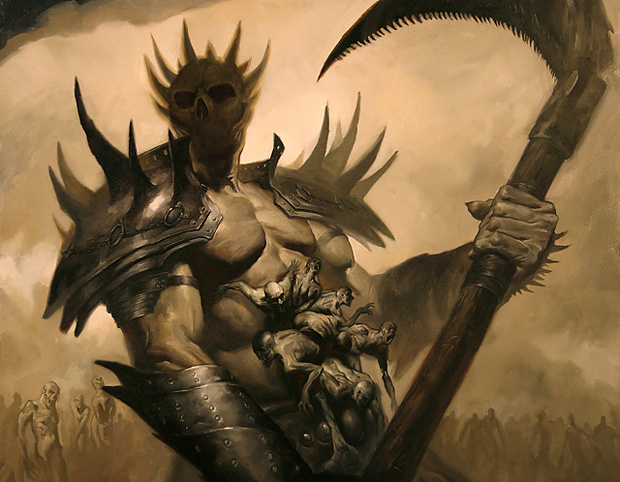 PS: I'm currently re-reading The Walking Dead. It's thrilling and sickening in equal parts. I don't remember thinking about the human condition this much when I read it the first time. Maybe I've matured. Maybe I'm secretly interested to see if I'd make it. And, just a tiny little bit, maybe I'm curious to see if I could do what needed to be done, if it really had to be done.
I'm pretty sure it's an accurate description of what people would be capable of given the lack of any social restraint. Chapeau bas!